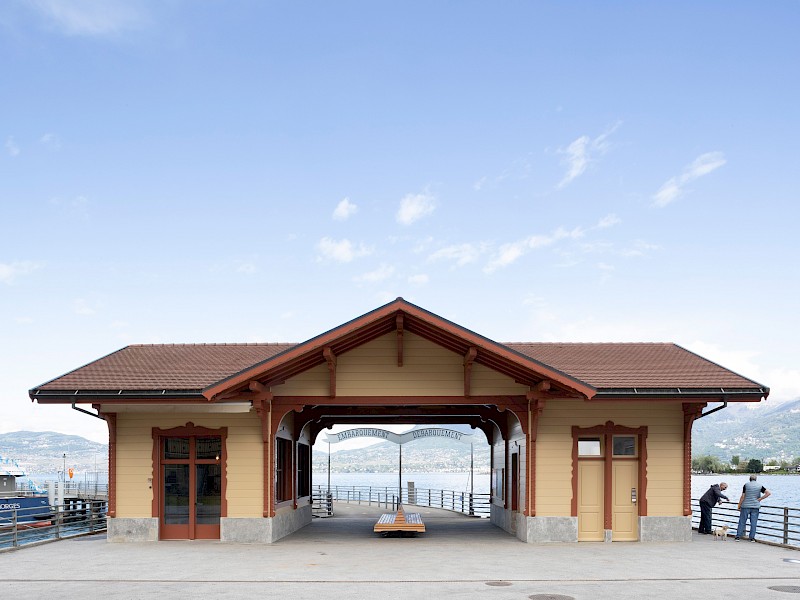 Ferry landing Le Bouveret
This small historical wooden construction dating from the beginning of the 20th century is one of the only transport buildings from this period still in use on the Lake Geneva. Built around 1912, it replaces the old landing stage located further south. Its original structure has been preserved, although some windows have been removed and modified. Because of their exposure to the lake and the weather, the façade boards have been replaced over time, erasing all traces of the original colour. The colour choice of yellow and red-brown on the facade is the result of historical research on similar buildings carried out by the Canton's Heritage Department. Inside, the water green colour was found on the original roof structure, above the hung ceilings installed in each wing at a later stage. This paint residue suggests that the interior once had a more generous space extending up to the roof. The space for the ticket office is given back its height, creating a "hut" whose four-sided geometry is derived from that of the roof frame. For the sake of simplicity, the inner shell is clad with tongue and groove planks as in the original design. The views of the lake and the mountains are freed up to restore the spirit of yesteryear, that of the beginning of Swiss tourism and the accompanying "Alpenromantik" architectural style.
The interior design of the kiosk echoes the stalls of past times which sold tickets, miniatures and Swiss chocolate to the English. The confined space is accompanied by a profusion of detailed furniture. With their edges and cut-outs, their brackets and hooks displaying gear for fishing, they create the desired density. In the centre, the counter and its shelf are inspired by the historical furniture of the Belle Epoque fleet of the Compagnie Générale de Navigation CGN. The lacquered maple woodwork of these boats reveals European influences from the beginning of the 20th century, such as neo-Directoire woodwork or Viennese Secession furniture on the "Vevey" for example. In contrast, the lacquered furniture introduces a preciousness that gives the ferry landing the character of a small jewel with a romantic touch.
Programme

Ticket office and kiosk

Location

Le Bouveret, VS

Surface

25 m2

Year

2019 - 2020

Client

Etat du Valais

Procedure

Mandat direct à travers étude test

Photography

Eik Frenzel, GayMenzel