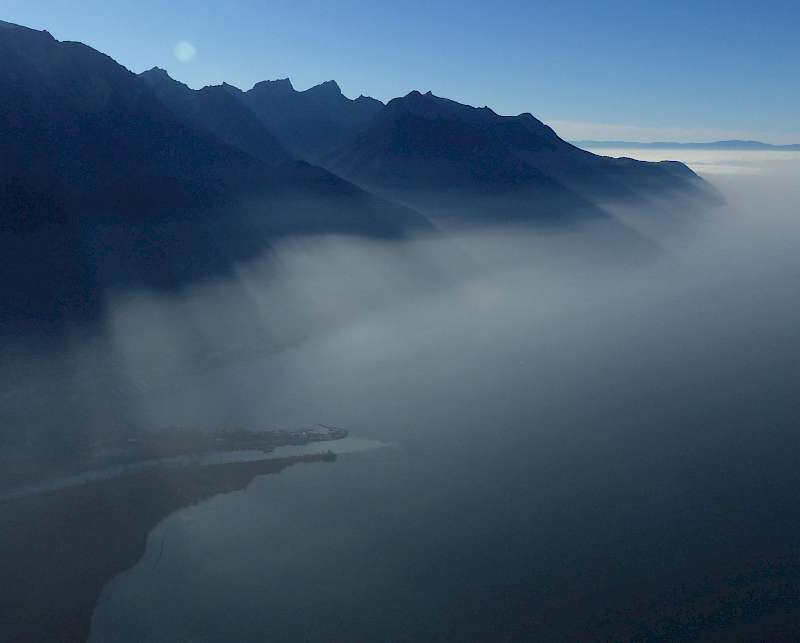 Le Bouveret test planning
Le Bouveret is a village on the eastern extremity of the Lake of Geneva. It has been strongly shaped by alternative forms of inhabtitation; a marina and a permanent camping ground can easily triple the population from spring to autumn. The main objectives of this test planning study were to enhance the quality the lakeshore, to propose an extension of the marina, to reconfigure the site around the train station and to strengthen the connections to the village centre along the cantonal road.
The project proposes to remove the rockfill of the lakeshore on the right bank of the Stockalper Canal in favour of a beach of considerable size, on a landscape scale, adjacent to a large park. The project advocates the maintain of a large void in response to the emptiness of the lake. The existing harbour is enlarged so as not to block the shoreline. It is treated in both infrastructural and landscape terms with the proposed reed beds. The primary objective of the proposed developments is to ensure their continuity from the mouth of the creek Benna to the pier. This intention is echoed in the line of large-scale poplars.
The new Place de la Gare emerges thanks to the renaturation of the small river Bouverette and a new urban design along the railway lines. The project aims to enhance the value of the old village core by creating a square at the main crossroads and redirecting road transit below the cantonal road in a covered trench. The village is thus returned to pedestrians.
Programme

Réqualification des rives

Location

Le Bouveret, VS

Surface

16,5 ha

Year

2016

Client

Etat du Valais, Commune de Port-Valais

Procedure

Test study